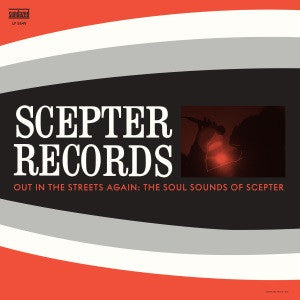 Various - Scepter Records - Out in the Streets Again: The Soul Sounds of Scepter Limited Edition Color vinyl!
---
Various Artists  |  Label: Sundazed 5549 |  Format: LP  |  Genre: Soul | LP condition: Mint | Jacket condition: Sealed
---
A 2016 Black Friday Limited Edition Release on RED vinyl! 
A vault's worth of solid gold treasures! Nearly all the cuts included here are legendary, high-dollar 45s, presented in their original—and danceable!—mono mixes. The sound of thousands of dollars' worth of revered R&B, from Sundazed!
The legendary Florence Greenberg was one of very few women who envisioned, launched and ran a hugely-successful record company. She liked to say that she was "a white woman in a black business who couldn't carry a tune!" But, she sure knew talent: talented artists, songwriters, producers, sales and promo people. For many amazing years, Mrs. Greenberg helmed a label comparable in size to Motown: not quite a major, but much more substantial than most indies. Scepter Records grew and flourished by cultivating an amazing network of independent writers and producers: Burt Bacharach and Hal David, Luther Dixon, Nick Ashford and Valerie Simpson, Van McCoy, and many, many others.
And now, compiled here are 15 exhilarating Scepter recordings - all incredible dance-floor sides (nearly $3k of original wax!), lovingly pressed onto one glorious album. Viva, Florence! Viva, Scepter Records! Dim the lights, turn this soulful platter up and get ready to move!!!
Track Listing: 
Dearly Beloved - Jack Montgomery
Work Song - Tommy Hunt
Tonight's The Night - Candy and the Kisses
Just One More Time - J.J. Barnes
The Change - Ernestine Eady
A Groovy Guy - The Shirelles
Marching - The Camp
Lost Love - Irma and the Fascinators
Out in the Streets Again - Candy and the Kisses
Do You Believe it - Jack Montgomery
Ain't No Soul Left in These Old Shoes - Ronnie Milsap
I'm Stepping Out of the Picture - Johnny Maestro and the Crests 
I Don't Have a Mind of My Own - BJ Thomas 
Hey Watcha Doin' - Jerry Tiffle
NEW SEALED Limited Edition LP on RED Vinyl! 
---
Share this Product
---
More from this collection