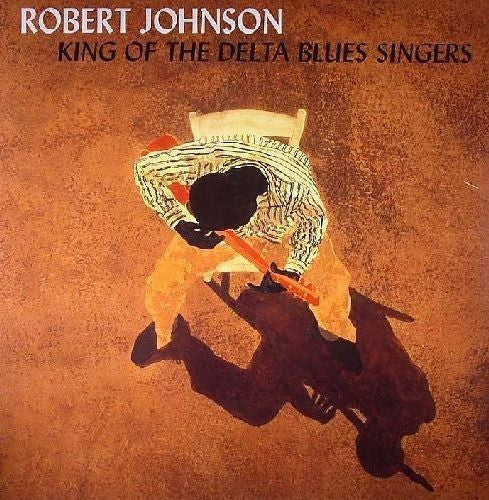 Robert Johnson - Complete King of The Delta Blues Singers - 2 LP - 180g
---
Artist: Robert Johnson | Label: DOL | Format: 2xLP | Genre: Blues | Vinyl Condition: Mint | Jacket Condition:  Sealed
---
Robert Johnson
The Complete Recordings
DOL 933HG - 2 LP set
The Complete Recordings on a 180g 2 LP set. This import double-LP set compiles all known tracks recorded by the near-mythic Robert Johnson; The most important blues songs ever recorded, who influenced other blues titans such as Howlin' Wolf and Muddy Waters as well as rockers like Bob Dylan, The Rolling Stones, Led Zeppelin, and more. With Exclusive gatefold jacket. 
A great deal indeed! 
Tracks:
     LP 1  (King Of The Delta Blues Singers)
01. Cross Road Blues
02. Terraplane Blues
03. Come On in My Kitchen
04. Walking Blues
05. Last Fair Deal Gone Down
06. 32-20 Blues
07. Kind Hearted Woman Blues
08. If I Had Possession Over Judgement Day
09. Love in Vain Blues 
10. When You Got a Good Friend
11. Rambling on My Mind
12. Stones in My Passway
13. Traveling Riverside Blues
14. Milkcow's Calf Blues
15. Me and the Devil Blues
16. Hellhound on My Trail
     LP 2  (King Of The Delta Blues Singers, Volume II )
01. Kind Hearted Woman Blues
02. I Believe I'll Dust My Broom
03. Sweet Home Chicago
04. Rambling On My Mind
05. Phonograph Blues
06. They're Red Hot
07. Dead Shrimp Blues
08. Preachin' Blues
09. I'm A Steady Rollin' Man
10. From Four Till Late
11. Little Queen Of Spades
12. Malted Milk
13. Drunken Hearted Man
14. Stop Breakin' Down Blues
15. Honeymoon Blues
16. Love In Vain
 NEW SEALED 180g import 2 LP set with exclusive gatefold jacket. 
---
Share this Product
---
More from this collection