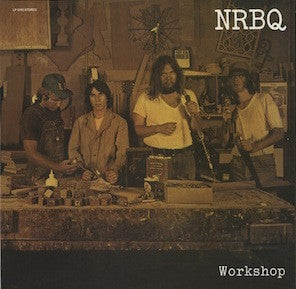 ---
Artist: NRBQ  |  Label: Sundazed 5185 |  Format: LP  |  Genre: Rock | LP condition: Mint | Jacket condition: Sealed
---
RARE EARLY LP ON VINYL Q masterpiece from start to finish!  Original mixes!
The wildly eclectic New Rhythm & Blues Quintet, better known to its worldwide legion of adoring fans as NRBQ (or just the Q!), is the only band on the planet that can play rockabilly, bar-band blooze, Beatles sound-alikes and Sun Ra-style free jazz in the same set and remain standing.

By the time keyboardist Terry Adams, vocalist Frank Gadler, bassist Joey Spampinato, drummer Tom Staley and fabulousnew guitarist Al Anderson released Scraps, their wonderful second album in 1972, they had relocated from Florida to New Jersey—and, like their name says, they were actually a quintet for the only time in their career. The Q immediately followed Scraps with 1973's equally terrific Workshop. Gadler had departed, reducing the Quintet to its customary foursome (natch!), but the band never missed a beat with an album that featured the hypnotically chugging and the mouth-watering tracks that helped cement their legend.
Track Listing:

C'mon If You're Comin'  
RC Cola and a Moon Pie
Blues Stay Away from Me
Mona
Just to Hold MyHand
Get That Gasoline Blues
Deaf, Dumb, andBlind
Miss Moses
I Got a Little Secret
Heartsof Stone
Misunderstanding
Four Million B.C.
NEW SEALED LP
---
Share this Product
---
More from this collection