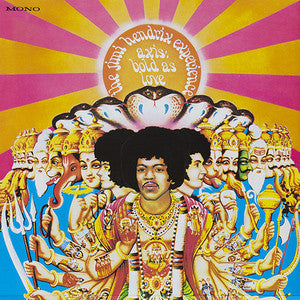 Jimi Hendrix - Axis: Bold as Love (Mono)
---
Artist: Jimi Hendrix |  Label: Experience Hendrix  |  Format: LP  |  Genre: Rock | Album Condition: New  |  Cover Condition: Sealed
---
Jimi Hendrix 
Axis: Bold as Love 
Experience / Sony in MONO
LP re-issue of the all time classic album, 
AXIS: BOLD AS LOVE
by The Jimi Hendrix Experience w/ Noel Redding, 
and Mitch Mitchell. It was their 2nd from 1967.
This Experience Hendrix LP issue is part of their re-issue program dedicated to issuing Hendrix's original albums as faithfully as possible. This issue features the complete original artwork, and 8 page booklet, with rare photos and liner notes. 

     Track Listing
1. EXP
2. Up from the Skies
3. Spanish Castle Magic
4. Wait Until Tomorrow
5. Ain't No Telling
6. Little Wing
7. If 6 Was 9
8. You Got Me Floatin'
9. Castles Made of Sand
10. She's so Fine
11. One Rainy Wish
12. Little Miss Lover
13. Bold as Love
NEW & SEALED! 


NEW SEALED re-issue LP in MONO
---
Share this Product
---
More from this collection