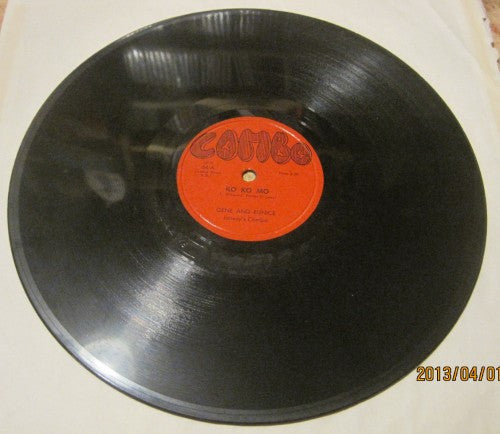 Gene & Eunice - Ko Ko Mo / You and Me
---
Gene & Eunice   |  Label: Combo 64   |  Format: 78   |  Genre: Rock
---
Condition: Excellent
"Ko Ko Mo (I Love You So)" is a popular novelty song written in late 1954 by the Rhythm & Bluespartnership
of Forest Gene Wilson and Eunice Levy, and also credited to Jake Porter. One of the earliest rock and roll songs, it was probably "the most extensively recorded rock 'n' roll song of that time".
Originally recorded by R&B duo Gene and Eunice (Wilson and Levy) in November 1954 on the Combo label and again in January 1955 on the Aladdin label, it was covered by at least 17 different musicians in the first few months of 1955 alone. This is Combo Records #64 - the Original! as recorded by Gene & Eunice w/ The Jonesy's Combo. 
Ko Ko Mo / You and Me Track Listings
KO Ko Mo b/w You and Me
Comments from Orbit Records: The disc is Excellent with a nice shine Very little center hole wear typical light 78 noise. No chips, no skips.
---
Share this Product
---
More from this collection