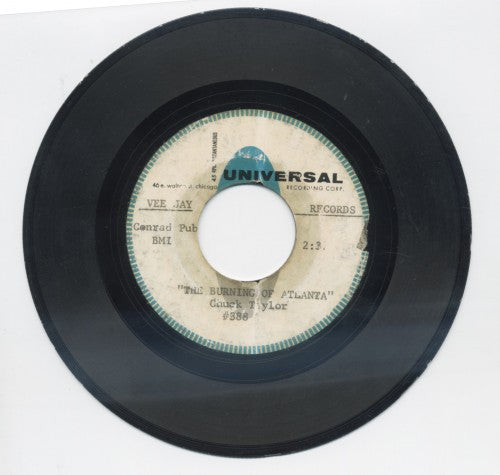 Chuck Taylor - The Burning of Atlanta /
---
Chuck Taylor   |  Label: Vee Jay 386   |  Format: 45   |  Genre: Country
---
Condition: Very Good
This is a true rarity; a PROMO ACETATE PRESSING of Vee Jay Records 45 #386;  
Chuck Taylor - The Burning of Atlanta - Vee Jay's 1961 entry into the 
historical country records popular in the day, a la North To Alaska, or The Battle of New Orleans. 
The South's gonna rise again...
It is a one-sided acetate, from Universal Studios in Chicago, also the home of Vee Jay, 
with typing on the Universal logo on the A side, and a blank Audiodisc logo on the B side. 
Comments from Orbit Records: Plays nice with some noise - listen to sound clip. It will probably clean up better than it sounds here, but we were afraid to mess with such a rarity, without knowing how the new owner would want it handled. Have a gander at our other acetates and test pressings from the private collection of Chicago DJ Richard Stamz.
---
Share this Product
---
More from this collection