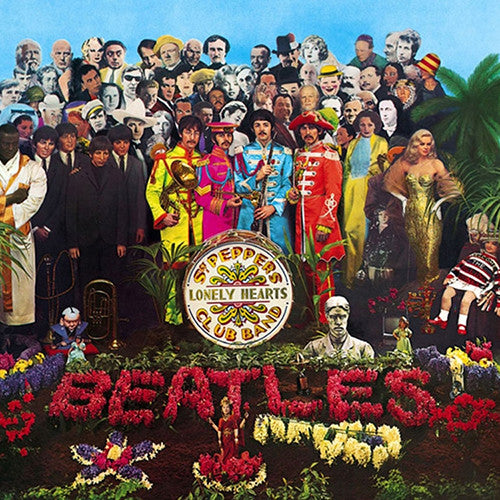 Beatles - Sgt Pepper's Lonely Heart's Club Band 180g
---
Artist: The Beatles  | Label: EMI / Apple | Format: LP  |  Genre: Rock | Vinyl Condition: Mint | Cover Condition: Sealed
---
Generally regarded as the finest psychedelic pop album ever recorded, Sgt. Pepper stands as the Summer of Love's defining moment. It also remains many music lovers' pick as the greatest record in history. Merits of such debates aside, it's clearly a sonic tour de force—the byproduct of 700 hours spent in the studio, countless overdubs, imaginative production techniques, and full-on embrace of freedom, risk, and adventure. Hear it all in stereo like never before.

Part of Capitol/Apple's quintessential Beatles catalog masters series on LP, Sgt. Pepper's Lonely Hearts Club Band has been remastered by a dedicated team of engineers that includes Guy Massey, Steve Rooke, and Sam Okell with Paul Hicks and Sean Magee. Proper care and a painstaking series of steps were taken to ensure that music lovers would hear the Fab Four in all their stereo glory with unprecedented clarity and transparency.

Perhaps more so than any other Beatles album, Sgt. Pepper's Lonely Hearts Club Band gains completely new life from dedicated remastering efforts. The band pushes the limits on what's possible with phasing, flanging, chorusing, and four-track synching whereby four tracks were strictly used for instrumentation and then carried over to second (and sometimes, third) reduction mixes. This pioneering method of locking two four-track machines together in sync—never attempted before—now sounds glorious, as was originally intended in the studio.

The album's psychedelic feel has never come across so heavily or wholeheartedly in stereo. Chorus-like effects that grace so many songs, the result of wobbling the oscillator, transmit with unparalleled quality. In addition, the more open-sounding bass notes carry and decay, as do the myriad keyboard-dependent arrangements. And the return of reverb—the Beatles went back to utilizing echo chambers—dots the melodies, harmonies, and overwhelming scope of instrumentation.

With EMI's legendary Abbey Road Studios providing the backdrop, the four-year restoration process combined veteran expertise, state-of-the-art equipment, vintage studio gear, and rigorous testing to net what is without doubt the highest fidelity possible and authentic, jaw-dropping sound guaranteed to rival the original LPs. There is no longer any need to pay hundreds of dollars for Japanese pressings.

At the start of the restoration process, engineers conducted extensive tests before copying the analog master tapes into the digital realm using 24-bit/192 kHz resolution and a Prism A-D converter. Dust build-ups were removed from tape machine heads after the completion of each title. Artifacts such as electrical clicks, microphone vocal pops, excessive sibilance, and poor edits were improved upon as long as it was determined that doing so didn't at all damage the integrity of the songs. Similarly, de-noising technology was applied in only a few necessary spots and on a sum total of less than five of the entire 525 minutes of Beatles music. 

In cutting the digital masters to vinyl, stringent safeguards and procedures were employed. After cutting to lacquer, determined to be warmer and consistent than cutting to DMM, the next step was to use the Neumann VMS80 cutting lathe at Abbey Road. Following thorough mechanical and electrical tests to ensure it was operating in peak condition, engineer Sean Magee cut the LPs in chronological release order. He used the original 24-bit remasters rather than the 16-bit versions that were required for CD production. It was also decided to use the remasters that had not undergone 'limiting,' a procedure to increase the sound level.

 Having made initial test cuts, Magee pinpointed any sound problems that can occur during playback of vinyl records. To rectify them, changes were made to the remasters with a Digital Audio Workstation. For example, each vinyl album was listened to for any 'sibilant episodes.' vocal distortion that can occur on consonant sounds such as S and T. These were corrected by reducing the level in the very small portion of sound causing the undesired effect.
Similarly, any likelihood of inner-groove distortion was addressed. As the stylus approaches the center of the record, it is liable to track the groove less accurately. This can affect the high-middle frequencies, producing a 'mushy' sound particularly noticeable on vocals. Using what Magee has described as 'surgical EQ,' problem frequencies were identified and reduced in level to compensate for this.

 The last phase of the vinyl mastering process began with the arrival of the first batches of test pressings made from master lacquers that had been sent to the two pressing plant factories. Stringent quality tests identified any noise or click appearing on more than one test pressing in the same place. If this happened, it was clear that the undesired sounds had been introduced either during the cutting or the pressing stage and so the test records were rejected. In the quest to achieve the highest quality possible, the Abbey Road team worked closely with the pressing factories and the manufacturers of the lacquer and cutting styli.

Sourced From the Original Master Tapes - STEREO version
Includes Replica Psychedelic Inner Sleeve, Cardboard Cut-Out Sheet, and Additional Insert

Cut at Abbey Road Studios by a First-Rate Team of Producers and Engineers: Stringent Procedures and Safeguards Ensure Optimum Sound
For this project, there was no such thing as too many cooks in the kitchen. Yes, it took a village to get it right.

The Beatles Sgt. Pepper's Lonely Hearts Club Band Track Listing:

1.  Sgt. Pepper's Lonely Hearts Club Band

2.  With A Little Help From My Friends
3.  Lucy In The Sky With Diamonds
4.  Getting Better
5.  Fixing A Hole
6.  She's Leaving Home
7.  Being for the Benefit of Mr. Kite!
8.  Within You Without You
9.  When I'm Sixty Four
10. Lovely Rita
11. Good Morning Good Morning
12. Sgt. Pepper's Lonely Hearts Club Band (Reprise)
13. A Day In The Life 
180g Album is SEALED and NEW - original packaging with gatefold
---
Share this Product
---
More from this collection