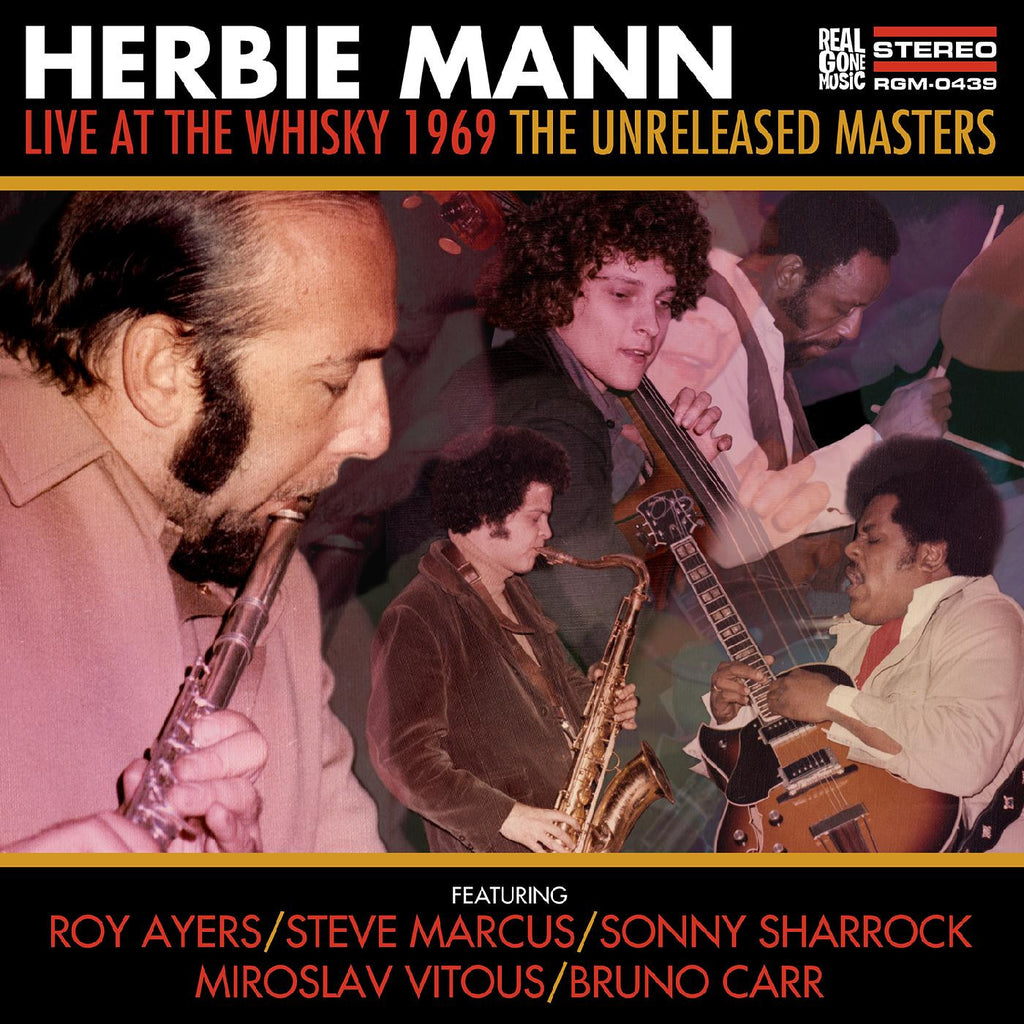 Herbie Mann - Live at the Whisky 1969: The Unreleased Masters - 2 CD set
---
Artist: Herbie Mann  | Label: Real Gone | Format: 2xCD |  Genre: Jazz  |  CD Condition: New | Cover Condition: Sealed
---
Herbie Mann
Live at the Whisky 1969: The Unreleased Masters
Real Gone Music 439 - 2 CD set 
While jazz flautist Herbie Mann is often remembered as a pop-jazz player, in the late '60s he was fronting one of the most progressive and electrifying bands in the world: guitarist Sonny Sharrock, Miroslav Vitous on electric & upright bass, saxophonist Steve Marcus, drummer Bruno Carr, and vibraphonist Roy Ayers (the same band shown in the new Summer of Soul documentary). Together, the sextet cut the dynamic Live at the Whisky A
Go Go album in 1969, drawn from a four night run at the legendary nightclub on Los Angeles' Sunset Strip. Though the band's repertoire was quite varied on these dates, just two side-long tracks, "Ooh Baby" and "Philly Dog," surfaced on the Atlantic Records release.
Now, reissue producer Pat Thomas has unearthed the multi-track tapes for these shows (never before mixed), and has programmed a double-CD set that shows this high-energy jazz-rock outfit stretching out – sometimes, on Sharrock's solos, way out – with, as an added bonus, the appearance of Linda Sharrock on songs that appeared (in studio versions) on the seminal Sonny Sharrock album Black Woman released around the time of these live shows.
All performances are previously unreleased, including a 23-minute jam of Donovan's "Tangier" blending into Tim Hardin's "If I Were A Carpenter" and a newly discovered take of "Ooh Baby" that clocks in at 21 minutes! Sonny Sharrock's searing lead guitar work is featured on songs first recorded by Aretha Franklin, Miles Davis, and Simon & Garfunkel – plus "Black Woman" and Portrait of Linda in Three Colors" with Linda on vocals. Live at the
Whisky—The Unreleased Masters puts fans of Bitches Brew, The Inner Mounting Flame, early Weather Report, and similar-era titles on notice that Herbie Mann was not just a pop-jazzbo – but a force to taken more seriously than history has accorded him.

     Includes; 
The Ringer 
Tangier / If I Were a Carpenter 
Memphis Underground 
Ooh Baby 
Scarborough Fair 
Black Woman 
All Blues 
If I Were a Carpenter 
Philly Dog 
Portrait of Linda in Three Colors, All Black 
Comin' Home Baby  Battle Hymn of the Republic / Comin' Home Baby 
Chain of Fools 

NEW SEALED 2 CD set
---
Share this Product
---
More from this collection